This is going to be a series of Bday buys thanks to the Anthro 15% off bday discount! I'll post as I take the pics.
Ice-Capped Blouse
Item No. 913786
The Anthropologie website says:
A misty layer of tulle settles upon Floreat's tiered top, as snow-white embroidery trims each and every scallop.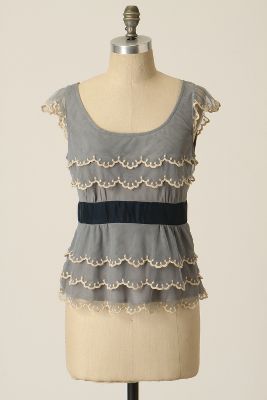 I thought this top was VERY CUTE when I first saw the Wavelet version over the summer and was so depressed when it sold so quickly! So happy this one was added to the fall/winter collection. The top fits true to size. Material is nice, doesn't look like it'd be too hard to care for. I like the sheer sleeves, makes it super cute an interesting! I usually wear a 2 in tops and it fit just right. Wouldn't have mind having it be a little longer even. Thinking about sizing up or trying the 4 to see if I have more wiggle room hahahah...
Here it is on moi (pardon the dirty bathroom pic hehehhe):
What do you think of this top? Have you tried it on? Should I size up?